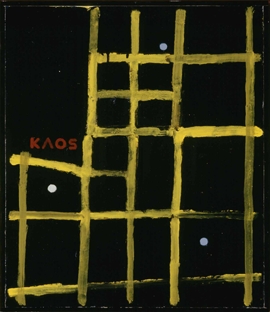 Werkelijkheid en de wereld (theoretisch model)
, 1983,
Collection Dekker-Noorman, Amsterdam
Dutch painter and draughtsman Reinier Lucassen (b Amsterdam, 16 April 1939)is regarded as a representative of the Nieuwe Figuratie (New Figuration) in the Netherlands and also the European answer to pop art.
Lucassen had exhibitions in major museums such as Van Abbe Museum in Eindhoven, Stedelijk Museum in Amsterdam and Cobra Museum in Amstelveen. In 1986 he exhibited for the Netherlands in the Rietveld Pavilion at the Venice Biennale.
Lucassen studied at the Rijksnormaalschool voor Tekenleraren in Amsterdam (1957-60). From 1963 he used the works of such artists as Max Beckmann, Giorgio de Chirico, Vincent van Gogh, Piet Mondrian, James Ensor and Francis Picabia as departure points for his paintings, for example Vincent, P.M. and Lucassen (acrylic on canvas, 1974; Eindhoven, Stedel. Van Abbemus.). He combined historical connotations with the representation of interiors and people in their everyday environment. Influenced by Pop art he also depicted well-known cartoon characters. In 1966 Lucassen collaborated with Etienne Elias, Raoul de Keyser and Roger Raveel on a commission for Graaf De Kerckhove De Denterghem for paintings in the castle at Beervelde. In 1967, with Jan Dibbets and Ger van Elk he founded the Instituut vor Herscholing van Kunstenaars (Institute for the Retraining of Artists), from which manifestos and projects emerged.

After 1972 Lucassen developed a partiality for the bizarre and irrational combined with elements of eroticism. Around 1977-8 another change of style occurred, in which abstract and fantastic shapes were associated with objects from reality, for example the Spirit of Iniet (1985; Eindhoven, Stedel. Van Abbemus.). In response to the first wave of the "conceptual art" movement, Lucassen, along with a group of young artists in the Netherlands, established a new vision on representation art. In the 80s he changed his approach radically. His paintings had more symbolic meaning. Depicting abstract forms, words and letters on an abstract background, Lucassen formed a visual language that he called it "Abstract Symbolism".