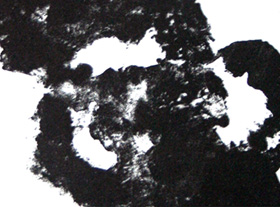 Armando, lithography for Hemel en aarde.
Het Gevecht (detail), Ergo Pers, 2007








Armando (Amsterdam, 1929) is one of the major post-war artists of the Netherlands. He is held in high esteem both national and internationally as an artist, writer, film and documentary maker and violinist. His work, based on his personal experience of the Second World War in Amersfoort, deals with existential and universal themes which he describes in terms of power and powerlessness, perpetrators and victims, memory, mortality and melancholy. His work has always been shaped by a fascination for violence and evil. Astonished by the insidious beauty of this violence, Armando works out his overarching theme in a unique way in each discipline in which he is engaged. Driven by his longing for insight into evil and by his desire to master each technique in order to give voice to his theme, he explores the possibilities inherent in each medium to their extreme limits.

Armando's work comprises several series of monumental paintings, executed in intense impasto in black and white with occasional traces of colour, as well as subtle, poetic drawings and graphics. In 1989 sculptures began appearing that seem to have been formed and battered by the forces of nature. Armando's prose and poetry occupy a place of their own. There the unspeakable is put into words in a very specific language, surrounded by a great deal of white space. Documentaries that feature the comments of perpetrators as well as victims, films and theatre productions complete an oeuvre whose visual and literary works have repeatedly been awarded prizes. As the violinist of the Armando Quartet, Armando expresses in music the sense of sadness and melancholy that occupies a place in all his work.

Read more [Armandomuseum Amersfoort]

Armando was born in Amsterdam and studied History of Art at the University of Amsterdam from 1950. His first solo exhibition was at the Galerie Le Canard, Amsterdam in 1954. At this time he also started to write poetry. He was influenced by the CoBrA art group, and produced abstract drawings produced with his left hand in the dark. Armando was also influenced by Dubuffet and Jean Fautrier producing thickly impastoed paintings.
In 1957 he was one of the founder-members of the Nederlandse Informele Groep (Informelen), with the painters Kees van Bohemen, Jan Henderikse, Henk Peeters, Jan Schoonhoven and others.
By 1959 he had joined the Situationist International (SI, with Constant, Jorn, Debord) and attended their Third conference held in Munich April 17 - 20, 1959. With Anton Alberts, Constant and Har Oudejans he wrote the first proclamation of the Dutch Section of the SI.
However he was expelled from the SI in the Spring of 1960. However he participated in other Situationist activity, contributing to the Situationist Times.
He has also contributed to Podium, Gard Sivik, De Nieuwe Stijl, Barbarber.
Armando lives in Amstelveen, near Amsterdam, and Potsdam (Berlin).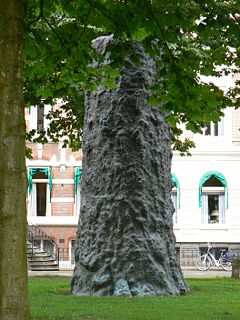 Armando, Der Baum, Groningen
Verzamelde gedichten
Bevat de verzamelde gedichten van 1951-1963; Hemel en aarde een heroïsche cyclus in 3 delen; De denkende, denkende doden; Het gevecht - een gedicht; Tucht - gedichten 1971-1978; Het plechtige, het donkere; De hand en de stem; De naam in een kamer - Een gedicht; Verspreide gedichten etc.

Armando Lithography | Lithografie, Steendrukkerij Amsterdam, 1989, text by Marty Bax.

Armando, Fahnen, tentoonstellingscatalogus Nationalgalerie Berlin, Westfalischer Kunstverein Munster, 1984.

Armando, 100 tekeningen, 1952-1984, tentoonstellingscatalogus Museum Boymans-van Beuningen, Rotterdam, 1985. Drietalig Ned.-Duits-Eng.

Die Berliner Jahre/The Berlin Years, Den Haag, SDU, 1989.

De terugkeer van de kleur | The return of colour, Galerie Willy Schoots en het Armando Museum , 2003, met tekst van Rick Vercauteren en Yvonne Ploum.

Neue Horizonte, Stiftung Museum Schloss Moyland , 2005, met tekst van Thomas Deecke.

Armando, De tand des tijds/Der Zahn der Zeit. Over Armando's Bronzen 1988-1999, tentoonstellingscatalogus Bonnefantenmuseum Maastricht, 1999.

Beeldhouwer Armando, Oeuvrecatalogus bronssculpturen 1988 - 2006, Galerie Willy Schoots, Eindhoven , 2006, met tekst van Lucius Grisebach.

Armando werkte in Berlijn tot 1989 in het atelier dat vroeger van de nazi-beeldhouwer Arno Breker was. Zijn Berlijnse jaren leverden vele series op: 'Sehnsucht nach der Bourgeoisie, am Waldrand' (1980-1981), 'Feindbeobachtung' (1982), 'Fallender Baum (1983), 'Gefechtsfeld' (1986-1987) en 'Schuldige Landschaft' (1987) bijvoorbeeld. De morsige vlaggen als symbool van macht en geweld. Vanuit Berlijn schreef hij een tweewekelijkse column voor NRC Handelsblad die werden gebundeld in Uit Berlijn (1982), Machthebbers. Verslagen uit Berlijn en Toscane (1983) en Krijgsgewoel (1986).




Limited editions

• Simon Vinkenoog (tekst), Armando (vignetten), gepubliceerd naar aanleiding van Armando's tentoonstelling in Kunstzaal 't Venster in Rotterdam in 1957. 150 genummerde exemplaren, gesigneerd door Armando enVinkenoog.

• Armando, Het plechtige - het donkere/das feierliche - das dunkle, met zes litho's en zes begeleidende teksten van Armando, (met in een apart katern, de Duitse vertaling van Anne Stolz), Bebert Rotterdam, 1984, in een houten kist van Piet van Schadewijk. Oplage: 137 genummerde exemplaren en 12 Romeins genummerde luxe exemplaren op Fabriano-Esportazione, voorzien van een originele gesigneerde tekening, een originele handgeschreven en gesigneerde tekst en een houten wissellijst, verzorgd door Van Schadewijk.

• Herinneringen. Amsterdam, Picaron editions, 1991. Losbladig in kartonnen omslag en cassette (Binderij Phoenix). 204 p. Met 16 illustraties in zeefdruk. Gedrukt door Geuze in een oplage van 180 genummerde en gesigneerde exemplaren.

• Armando, Schuldig Landschaft, Rotterdam, Bébert, 1986. Vijf originele gesigneerde litho's. In een portfolio door handboekbinderij Roest. Oplage 35 genummerde exemplaren in rood en zwart, en 10 Arabisch genummerde exemplaren hors commerce.

• Armando, De hand en de steen, Hein Elferink, 1995. 5 losse katernen in linnen overslagdoos. Armando maakte bij zijn gedichten 6 litho's. Gezet uit de Pascal en gedrukt op BFK Rives.

• Armando, De naam in een kamer, Hein Elferink, 1998. Een gedichtencyclus met acht litho's. Folio. Losse katernen in rode linnen map, gevat in rode linnen overslagdoos. Oplage: 25 exemplaren, gedrukt op Zerkal.

• Armando, De hand en de stem, Hein Elferink, 1995. Gedichtencyclus met 6 litho's. Losse katernen in rode linnen overslagdoos. Oplage: 50 genummerde en gesigneerde exemplaren, gedrukt op BFK Rives.

• Ook over de tekeningen van Armando verscheen een bibliofiele editie.
De uitgave bevat de beschouwing Confrontaties tussen potlood en papier van Ernst van Alphen en de herdruk van De galm van het verleden, Martijn Sanders in gesprek met Armando. Twee edities: een gebrocheerde editie (55 exemplaren) en een luxe editie in linnen map. De luxe editie bevat, naast de tekstuitgave, drie litho's en een nieuw gedicht.