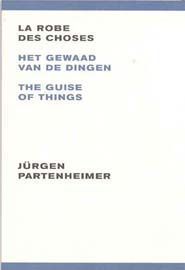 CrossMapping, Partenheimer in China, China National Museum of Fine Art, Beijing, Richter Verlag, Diisseldorf, 2001.


La robe des choses, S.M.A.K., Merz, Gent, 2002.


Gagarin, fifth edition, Waasmunster 2002.



Gelsenwasser, 'artists' book', with texts by Beatrice von Bismarck, Bazon Brock, Franz W.Kaiser and Jan Thorn-Prikker, 2003.
Gelsenwasser is the result of a dialogue between art and economy. Partenheimer drew up the portrait of a company: an autonomous object of art, with the specific view of a famous artist. The subject is Water - raw material, good of trade and symbol in once. Partenheimer used for this project staged photography.
Signatur 39, Verlag Rommerskirchen, Remagen-Rolandseck, 2003.



Mindscape | Hamish Fulton - Jürgen Partenheimer

In Häusler contemporary, München, November 2003.

Hamish Fulton und Jürgen Partenheimer präsentieren erstmals gemeinsam ihre Werke. Berührungspunkt ist die Auseinandersetzung mit dem Thema "Landschaft". Während Fulton vom realen Naturerlebnis seiner ausgedehnten Wandertouren ausgeht, das er in Bilder von symbolischem Ausdrucksgehalt umsetzt, sind die Landschaften Partenheimers poetische Vorstellungswelten einer imaginären Wirklichkeit. In der Gegenüberstellung offenbaren sich überraschende Gemeinsamkeiten zweier Künstler, die das Wesentliche und Zeitlose von Realität und Dasein im Zentrum ihres Schaffens sehen. "Mindscape" nimmt Bezug auf die individuellen Landschaftswelten, die aus der Begegnung mit den Werken der Künstler lebendig werden. Die reduzierte Ausdrucksform Hamish Fultons und Jürgen Partenheimers lässt Raum für kolossale Panoramen ebenso wie für die Poesie der Miniatur. Das Kunstwerk als Dokument eines schöpferischen Aktes wird damit zum Impulsgeber für die persönliche, imaginative Erfahrung des Betrachters. Hamish Fulton zeigt in der Ausstellung neben Zeichnungen eine Photo-Text- Arbeiten und eine Wandmalerei, die extra für "Mindscape" erarbeitet wurden.
Jürgen Partenheimer stellt neue Papierarbeiten, ein Gemälde und eine Skulptur vor. Die Arbeiten werden in der Ausstellung erstmals gezeigt.


Der Schein der Dinge / Gentle Madness, Dortmund, Museum am Ostwall, catalogue. Dortmund 2004. Texts by von Bazon Brock, Uwe Wieczorek a.o.


Künstlerbücher 1970-2003, Troisdorf 2004.
37,5 x 29 cm. Texts by Maria Linsmann, Werner Hofmann & Hank Hine.


Violer d'amores. Fragmente from Finnegans Wake, James Joyce, 2004, artists' book published by Galerie Onrust, Amsterdam.
De slapende goden | Sueños y otras mentiras, 2005, Ergo Pers, Gent.

Llivre de peintre, with poetry by Cees Nooteboom and lithographs by Jürgen Partenheimer, Llimited edition artist's book, in which the minimalism of Partenheimer is juxtaposed to Nooteboom's 'poetry of place'. The book contains several images, partly in color, a continuous etching on the front and back cover, and a suite of two signed lithographs.
38 x 28 cm, slipcase in crystal clear perspex, 48 Exemplare.
Jürgen Partenheimer | Roma - Sao Paulo | Zeichnungen Drawings, 2003/2005, /Richter Verlag 2006.
Copan - Diario Paulistano. Bilingual text edition of the Sao Paulo Diary. Published by the Kunsthalle Karlsruhe, 2006
Metaphysische Landschaft. Katalog zur Ausstellung im Nietzsche-Haus, Sils-Maria, Schwabe Verlag, Basel, 2007.
Über den Unterschied zwischen Branding und Werk oder Das freiwillige Exil der Unabhängigkeit, Edition Copernicus Texte, 2007